As a student housing specialist, Servitas is a leader in the P3 model process. Many universities are seeing a wider acceptance of the P3 model by their boards of trustees and state legislatures as a source of private funding. The university benefits from a P3 model due to fast-tracking construction, access to industry experts, much-needed housing for their rising student population, and turns raw land or under-performing stock into a source of revenue the college can use for other core academic purposes.
What is a P3?
The university or college itself incurs no liability as a 501(C)(3) tax-exempt foundation steps in as the borrower. A public sale of bonds provides complete funding with no investment required. The university only enters a long-term ground lease for the project site. A completion guarantee from the developer, payment and performance bonds as well as the builder's risk from the general contractor minimizes construction risk to the university. All contracted parties provide complete general liability, workers comp and professional liability coverage from licensed professionals. University departments provide input in design, issue building permits (state institutions), operations (resident life), and campus police protection while treating the project as part of their housing stock.
The ground lease maintains control of the project and the university can contract with the foundation to manage the project if so desired. The university may choose to buy or wait until the debt amortizes to own the asset free and clear.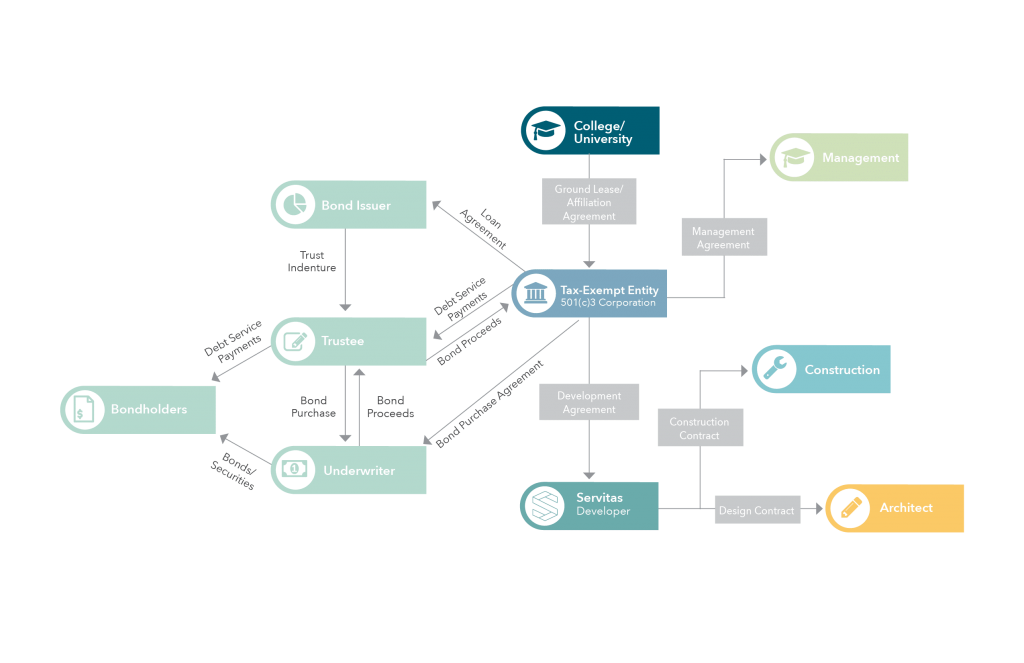 Benefits of a P3
This much-needed housing both provides a great recruiting tool for prospective students and helps with retention of existing students.
Projects can be designed to include needed academic space including dining halls, the classrooms at Bayview, and the fitness center at Northeast Texas Community College. Add to that the higher success rate of on-campus students, and you have a winning combination.
A recent announcement by Texas A&M revealed a series of P3s projected to provide approximately $900 million to the university, money Texas A&M can use to build academic buildings and facilities for their students. The Park West project developed by Servitas on Texas A&M University affiliated land in College Station, Texas, is projected to provide 3,406 student beds and contribute $600 million of the P3 income over the next thirty years.