Through a significant draw on the local labor pool and hands-on educational opportunities for students, Servitas' Texas A&M student housing project, Park West, is impacting the College Station, Texas, economy.
 New opportunities at Park West Texas A&M Student Housing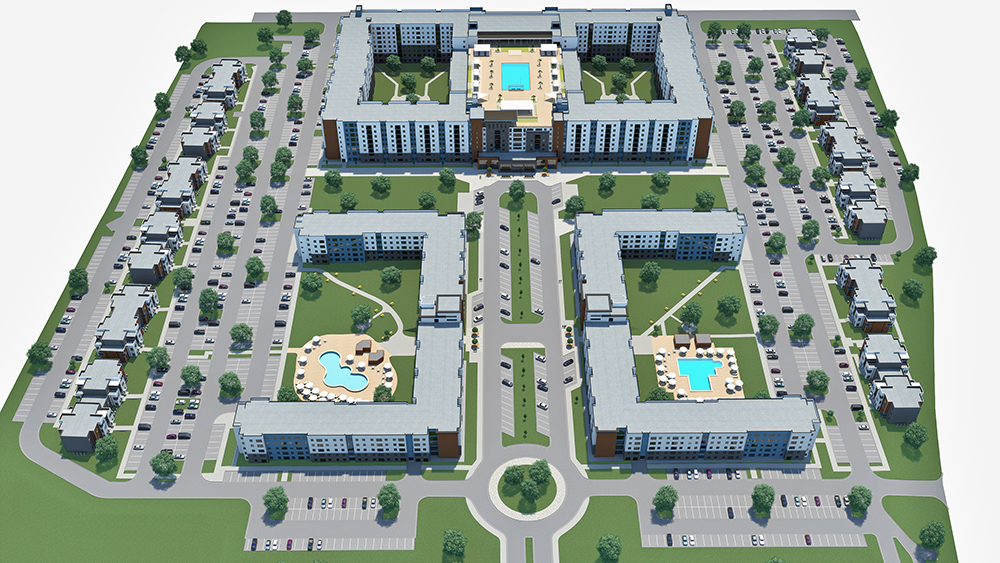 Park West student housing is located on Texas A&M University System land ground leased to the National Campus Community Development Corporation, the non-profit owner of the project.
At 47 acres, 15 buildings, 2.2 million square feet and 3,406 beds, Park West requires an army of construction workers to stay on schedule for its August 2017 completion.
Nearly 1,000 construction workers report to the Park West site daily. Over 100 off-site designers, managers, and project engineers have worked on the project as well.
"We are pouring roughly $300 million into the local and state economy through labor, vendors, and materials," Servitas Development Manager Morgan Thomas said.
The country's largest ever single-phase student housing project requires skilled planning and logistics. The Weitz Company, Park West's general contractor, has worked in close partnership with Servitas since the project's beginning to keep to the timeline and budget. Weitz selected subcontractors and suppliers several months before the first shovel hit the ground and sourced the talents of professionals both local to the area and nationally to form our preconstruction team.
"We had a focus on utilizing as many local and Texas-based subcontractors as possible, but also utilized some large, national subcontractors that we have experience with in other markets," Weitz Vice President Shane Bauer said. "This combination afforded us the ability to get the best value for the client."
In fact, through careful collaboration with Weitz and methodical construction sequencing, Servitas was able to open and fully lease 144 beds a full year ahead of schedule – no small feat given the already accelerated delivery timeline.
This Texas A&M student housing project will generate $600 million in ground lease payments over 30 years for the University System.
"Besides generating hundreds of millions of dollars for academics and research, this public-private partnership is a bargain for taxpayers while providing Aggies with the latest amenities in student housing," said John Sharp, Chancellor of The Texas A&M University System.
The project's construction process has also provided ample opportunity for hands-on experience.
"The P3 between Servitas and the Texas A&M University System has allowed Weitz to make Park West an extension of the university's engineering and construction science departments," Bauer said. "Not only have we hired Texas A&M students as interns working specifically on Park West, but Weitz has also been able to guest speak on campus, develop on-site learning labs, and host site visits for various classes and organizations to help enhance the educational experience the university can provide."
Upon completion, Park West will continue to enhance Texas A&M students' lives by providing private bedrooms in student apartments at a range of price points, a community of students focused on success, an active and involved living/learning experience, and access to part-time jobs as resident assistants, baristas, and more. Servitas is also setting up internship programs with the University System for other positions at our Texas A&M student housing projects, such as marketing and communications.
"So far, the success of the project is due to the collective, team effort we have experienced with Servitas, the Texas A&M University System, and our design partner PGAL," Weitz Senior Project Manager Frank Dascanio said. "A project this vast needs to be a collaborative effort amongst all stakeholders if it's to be a success."
Texas A&M Student Housing Renderings
###
About Servitas:
Servitas, LLC is a privately owned company focused exclusively on student housing development and property management. At the forefront of the privatized collegiate housing industry since its earliest days, Servitas is a leader in the full spectrum of student housing and student-centric mixed-use developments. Focused on providing the highest level of service to its higher education clients, Servitas has served more than 45 schools across the US with projects ranging from $7 million to $370 million in total cost. The firm provides its clients with the full suite of development services: market and demand research, financial structuring (including public-private partnerships), program development, construction administration, and property management. Servitas believes each project is special, and so its senior leadership dedicates significant hands-on time to each and every one. Servitas' corporate offices are located in Dallas and Houston. Visit Servitas.com.
About The Weitz Company:
Founded in 1855, The Weitz Company is a full-service construction company, general contractor, design builder and construction manager that serves all 50 U.S. states. Weitz is one of the oldest commercial general contractors in the United States and an industry leader in senior living., sustainable building, lean construction and virtual design and construction. Headquartered in Des Moines, Iowa, The Weitz Company annually ranks in the top tier of Engineering News-Record (ENR) magazine's Top 400 Contractors and Building Design+Construction's Giants 300 Contractors List.